Bakerview Farmworker Project, courtesy of Catholic Community Services of Western WA, Jenny Weinstein
---
Bellingham, August 2016
Impact Capital's Board of Directors ventured north to Bellingham for their August meeting.  Part of the morning was spent visiting several projects/sites, all of which were funded by the Bellingham Housing Levy.
On the list were:
Francis Place, Catholic Housing Services of Western Washington – COMPLETED
22 North Site, Opportunity Council and Northwest Youth Services – FUTURE SITE
Aloha Motel redevelopment site, Bellingham Housing Authority – FUTURE SITE
Bakerview Farmworker Project, Catholic Housing Services of Western Washington – UNDER CONSTRUCTION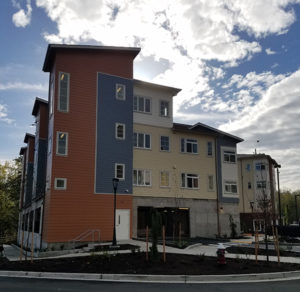 In the afternoon, after the board meeting and tour, area leaders joined in a roundtable to discuss their current initiatives and the challenges they face in their jurisdictions, which include Skagit, Whatcom, and San Juan Counties. Many of the issues faced in these northern counties, such as homelessness and a lack of affordable housing, are beginning to mimic in severity the problems seen in larger cities like Seattle.
Invited speakers included our community partners:
Lisa Byers, Executive Director, OPAL Community Land Trust
Dean Fearing, Executive Director, Kulshan Community Land Trust
Mauri Ingram, President and CEO, Whatcom County Community Foundation
Samya Lutz, Housing & Services Program Manager, City of Bellingham
John Moon, Executive Director, Habitat for Humanity in Whatcom County
Greg Winter, Executive Director, Opportunity Council (and Impact Capital board member)